A BRACING START FOR THE 12TH CIC NORMANDY CHANNEL RACE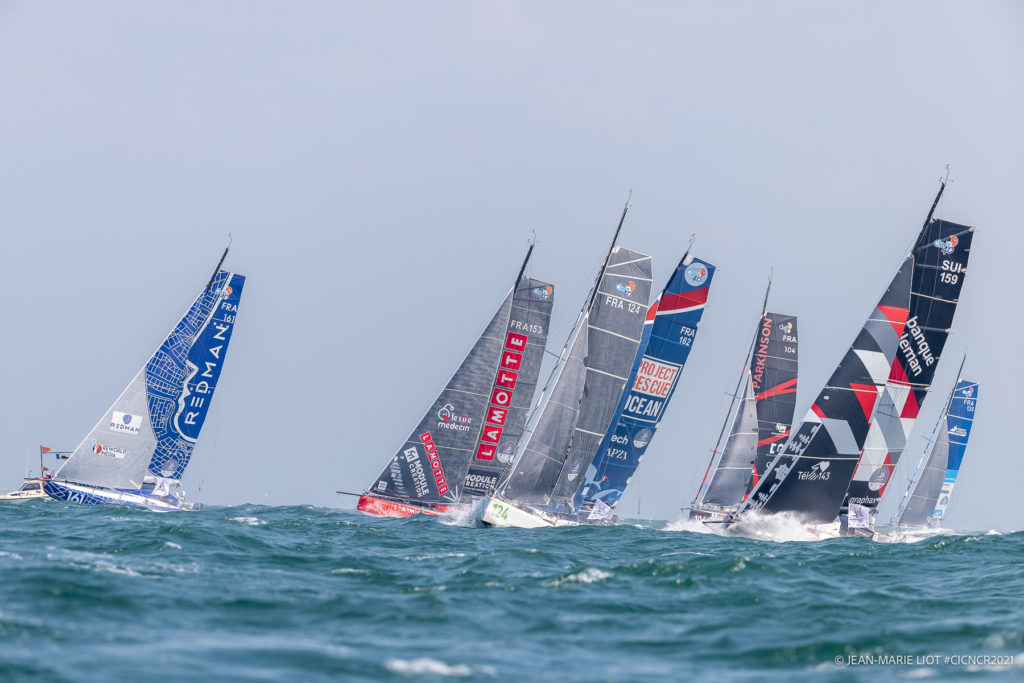 Increased broadcasting scope with the FRANCE 3 NORMANDIE TV partnership
Champing at the bit after many long months without competition, the 23 pairings were able to put pedal to the metal in heavy seas at the start of this 12th CIC Normandy Channel Race today. Indeed, it was in a 20-25-knot N/NE'ly breeze that the Race Committee released the competitors right on schedule at 16:00 hours local time off Ouistreham on this the first Class40 race of 2021. Bracing conditions forced the Race Director to cancel the traditional coastal course and send the fleet straight to the first course mark off Saint Marcouf via a windward mark positioned some 2.5 nautical miles from the start line set in the Baie de Seine off the mouth of the River Orne. After this aggressive introduction, the headline acts for this year's edition, Axel Trehin / Frédéric Denis, set sail with all guns blazing, dominating play upwind on their brand new Class40 Project Rescue Ocean and first to round the windward mark before launching onto a reach for the next compulsory passage mark off the Saint Marcouf Islands some 36 miles from the start. The duo Ian Lipinski and Gwenolé Gahinet, aboard their Class40 Crédit Mutuel, managed to hold rank after a flawless start, enabling them to move up into second place at the position report. Hot on their heels is the Franco-Spanish duo Antoine Carpentier and Pablo Santurde del Arco aboard Redman.
A high-speed channel hop
The Class40s quickly swallowed up the 36 miles between the windward mark off Ouistreham and the compulsory mark to the west of Saint Marcouf and this evening the fleet is already negotiating the passage across the English Channel and its intense shipping. With some serious talent on display among the skippers, the latest generation boats should really be able to show what their steeds are made of and gain a slight edge before they line themselves up for what is sure to be a less amusing passage, the Solent by night.