THE PACK SLINKS EASTWARDS EN MASSE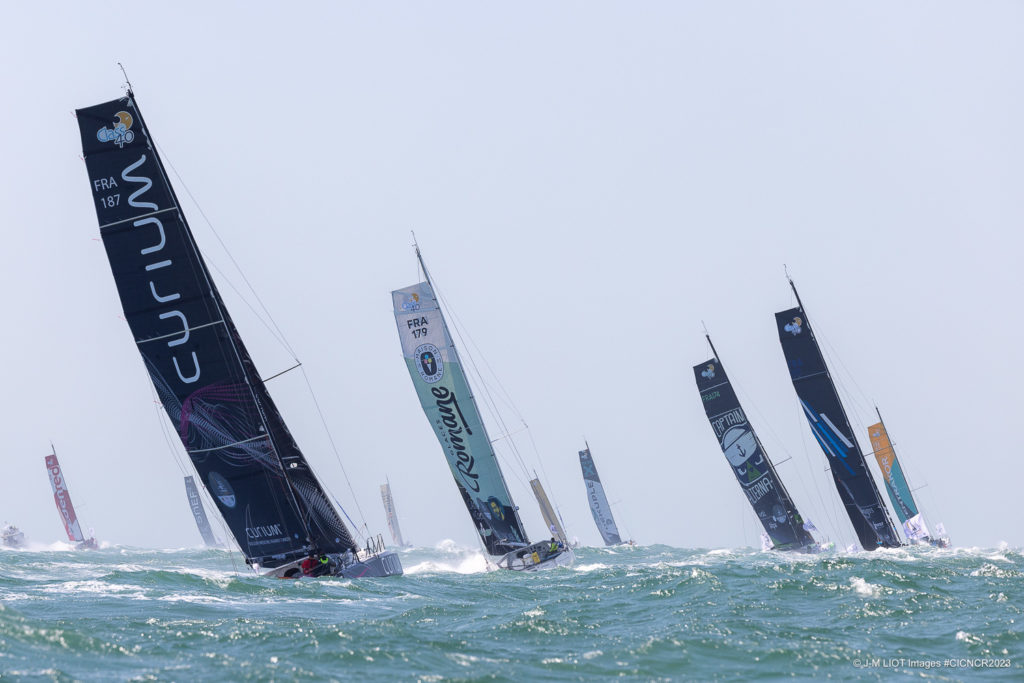 With the Fastnet ticked off for most of the fleet, the Class40s are now making for the south-west tip of England. Squashed together, the duos competing in this CIC Normandy Channel Race are close-hauled so conditions aboard are much less comfortable than they've had so far in this 2023 edition, with the breeze set to build as they re-enter the English Channel. Alla Grande Pirelli is still leading the way, but the name of the future winner has never been more uncertain given how close the boats are to one another and the key strategic decisions to come over the short and medium term…
There's a change of scene in the CIC Normandy Channel Race. After slipping along all the way down the south coast of Ireland and rounding Fastnet, the fleet has now signed up for a long upwind slog back to Ouistreham. The crews in this 14th edition are sailing in a medium 15-20-knot ENE'ly wind, which is set to build over the coming hours, especially once they pass the Scilly Isles. The relative comfort of the past few days is already a distant memory as the boats leapfrog from one wave to the next, making life rather difficult. Some duos have already opted to reposition themselves on port tack after passing the legendary Celtic lighthouse. Those who have yet to put in a tactical counter tack will likely mirror their rivals shortly. Slinking eastwards, the aim is to try to reposition themselves as far to windward as possible in relation to their direct rivals, the goal being to hug the tip of Cornwall as tightly as possible, according to the direction of the current when they get there and the negotiation of the numerous TSS (traffic separation schemes which it is forbidden to cross), and that of Seven Stones in particular. Alexis Loison, contacted at the noon radio link-up describes the strategy adopted aboard La Manche Evidence Nautique (185): "There has been so little separating the boats since Fastnet that we're virtually all within sight of one another. Some strategic choices await us, especially as we approach the Scillies and the TSS. I make no secret of the fact that we're currently preparing to put in a tack and we'll try to reposition ourselves a bit higher to pass close to windward of the Longships TSS."
As we go to press, the advantage still lies with the Italo-French duo of Ambrogio Beccaria and Kevin Bloch. However, the leader could change at any moment given how close they all are. The Top 6, comprising Alla Grande Pirelli (181), Legallais (190), Crédit Mutuel (158), Project Rescue Ocean (162), Curium Life Forward (187) and Tquila (159) are just over a couple of miles apart.
Briton Alister Richardson is having a ball on the latter boat in this his first Normandy Channel Race alongside offshore expert Brian Thompson. "We're having a good time. The race has been a bit up and down for us, but we're gradually working our way closer to the front of the fleet so it's good. From Tuskar Rock we decided to go inshore a little bit to miss a light patch that was potentially out at sea and the shift in the wind was really quite good, so we decided to stay in there. We ended up getting a good wind all the way along that shoreline, all the way to Fastnet Rock. We had a good game there and also our boat was going really well, so we were able to sail past lots of different boats. I think it was a real sweet spot for our boat. Conditions now are just starting to get a little windier and the sea's still quite flat so it's pretty good. We're pleased with the performance of the boat at the front of the fleet, hopefully we can hang on in there. We're still learning and we've been doing a reasonable job at getting the best out of her."
They'll need all their wits about them as the top 13 boats are grouped within 10 nautical miles of one another, with 22 boats squeezed into 26 miles, with the girls on Cap Pour Elles (154) managing to keep pace. With everyone packed together and in sight of one another, things must surely be getting tense as the sailors are doubtless flat out with the trimming and opting to hand steer for greater precision.
A boisterous return to the English Channel 
The first duos are expected between the Scillies and Land's End at around 20:00 UTC before they launch onto the final big chunk of racetrack and the strong winds forecast. "The passage around Fastnet saw us squeeze back together again and we can see pretty much everyone. For now conditions are reasonable, but this evening we're going to nose our way into the English Channel where it'll be a whole different ball game…" explained Fabien Delahaye today. The final outcome in this CIC Normandy Channel Race is sure to be thrilling. Verdict likely on Friday morning…