A classic finale off the Cotentin peninsula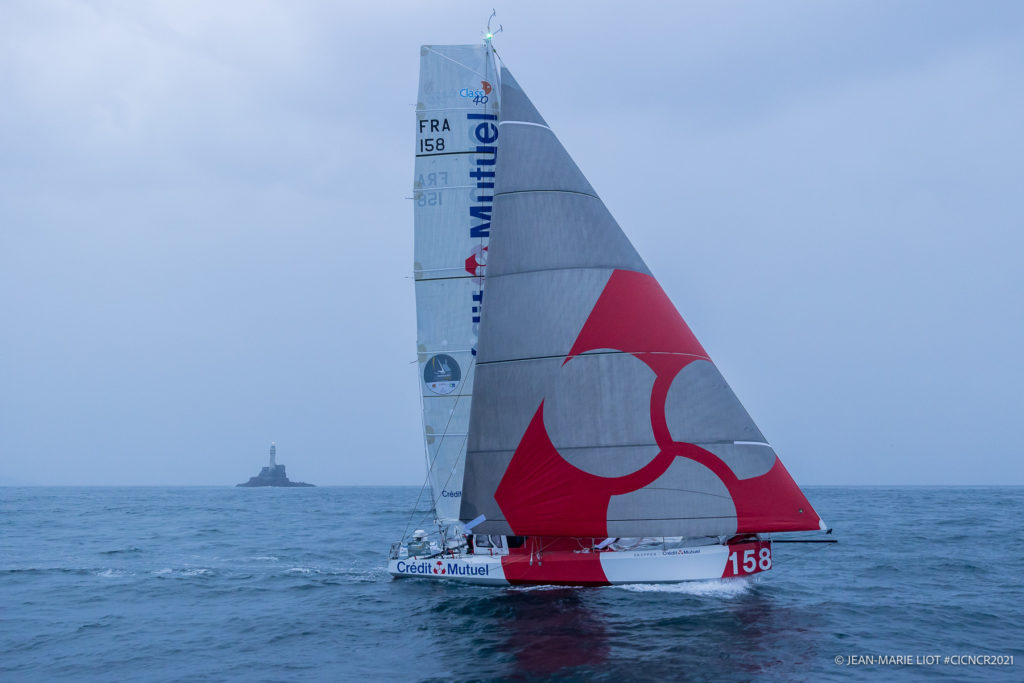 Once again, the 12th edition of the CIC Normandy Channel Race has given rise to a scene reminiscent of a Dantean finale. The wind from the low-pressure system has brought with it around twenty knots of SW'ly wind across the whole of the remaining course. It was leaders Crédit Mutuel (158), Project Rescue Ocean (162) and Redman (161), who were the first to benefit from this breeze early yesterday evening, enabling them to pick up the pace to 10-12 knots to pass the Scilly Isles and rekindle their ties with the English Channel. In these conditions, it is the Lorient-based team of Ian Lipinski and Gwenolé Gahinet who have snatched back the reins of the fleet by a short head. Still tightly bunched within a radius of one nautical mile, the top trio are set to reach the next course mark of Guernsey around midday (between 11:30-12:00 UTC) in a SE'ly breeze, which is forecast to drop away sharply before being caught up by a ridge of high pressure that will cause the wind to shift round to the W/NW. The last tricky section that the three leaders will have to negotiate will be coloured by very light airs off the Cotentin peninsula. To cap it all and further add to the suspense, a shift in the current between the Cap de la Hague and Barfleur will likely be part of the mix as the competitors sprint for the finish. Amidst light, erratic wind and punching tide, the protagonists in this 2021 edition may well be forced to hug the coast, which will delight spectators but won't be much fun for the sailors, who will really be feeling under pressure from their increasing fatigue, just when concentration will be paramount in their bid for the title.
 At the tail end of the fleet, the 3 boats bringing up the rear, Gustave Roussy (133), Eärwen (88) and Kite (144), have rounded Fastnet Rock in very little local breeze due to their position at the centre of a low-pressure system. Their resulting deficit in relation to the rest of the fleet means that they're currently negotiating the most boisterous conditions of this edition with a 30-35-knot breeze. Fortunately, these conditions will be short-lived as they are set to ease progressively over the course of this morning. Meanwhile, the middle of the fleet led by the crew on Legallais Team Voile is being influenced by a 20-knot SW'ly breeze and is enjoying a reach down to the Scillies and the gateway to the English Channel.
At the front of the fleet, the first boats are currently scheduled to cross the finish line off Ouistreham tomorrow morning at around 04:00-5:00 UTC, with a large part of the fleet due to complete the course throughout the day on Friday. The next 24 hours are doubtless going to be dripping with suspense for sailors and spectators alike with a denouement of typically epic proportions…