BRAKING IN THE CELTIC SEA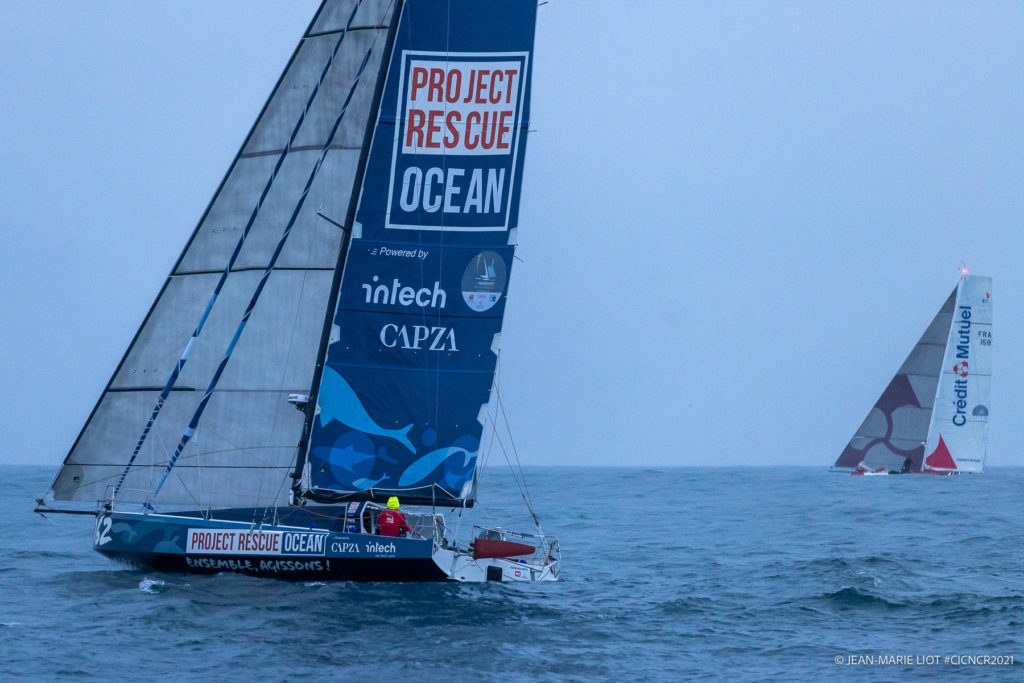 The first half of the CIC Normandy Channel Race fleet has now left Fastnet Rock in its wake and is making for the Scilly Isles and then the course mark of Guernsey. Thus far, this 2021 edition of the race has been sailed at high speeds, occasionally peaking at 20 knots, but today the skippers have really hit the brakes. The stormy low pressure system sprawling across the whole of the Celtic Sea has seen the average speed of all of the Class40s dip dramatically, barely scraping 3 knots on occasion. More bunched than ever, the leaders are likely to be the first to hook up with a meatier SW'ly breeze of 15-20 knots in the early evening. Another opportunity then for the top 5 to make good their escape and shake off their pursuers.
 In these light winds, every one of the competitors is on the hunt for the slightest puff of air and carefully covering their rivals in a bid to claw back every possible metre so they can be the first to latch onto the fresh breeze, which will push them along towards the Scillies, an archipelago eagerly awaited at the gateway to the English Channel as it heralds the home straight. In this little game Redman (161), which was first around the lighthouse off the south-west tip of Ireland, has lost its leadership for the moment for the benefit of Project Rescue Ocean (162). However, the final result is certainly not a foregone conclusion given the fact that this duo and Crédit Mutuel (158) are still neck and neck, just one nautical mile apart. Added to that, Lamotte Module Création (153) and Banque du Léman (159) are in hot pursuit, respectively five and eight miles shy of the top trio. At this lunchtime's radio link-up, Ian Lipinski summed up the situation to a T: "It's not the first time we've bunched back together and it certainly won't be the last; the weather is conducive to an action-packed race. It's bound to come down to the final home straight between Guernsey and Ouistreham…" This group of five is expected to reach the Scilly Isles at around 20:00 UTC.
Far from restful, these light airs require the utmost vigilance at all times. The twelve crews still making headway off southern Ireland and led by Prisme (131), will have to continue to contend with these sailing conditions for the bulk of the night before they too can rediscover a more suitable wind speed and point of sail and begin their own return journey across the Celtic Sea.