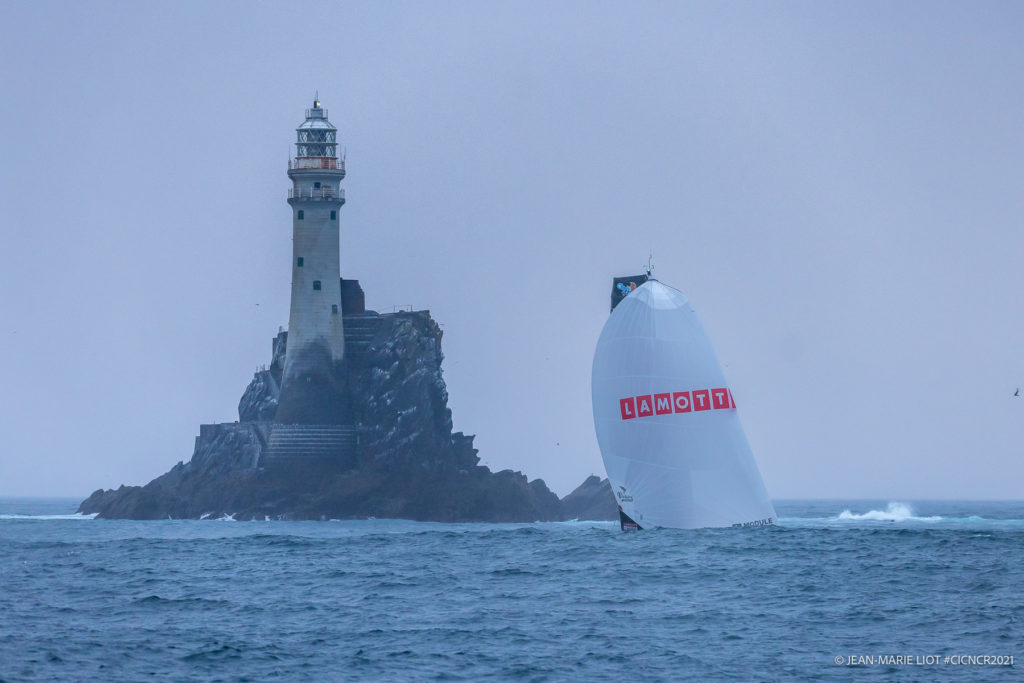 The 5 leaders in the 12th CIC Normandy Channel Race rounded Fastnet Rock at dawn this morning. It's the Franco-Spanish pairing aboard Redman (161) who were the first to reach the legendary lighthouse off the south-west tip of Ireland at 03 hours and 37 minutes UTC and switch back onto a course bound for the Scilly Isles and then on to Guernsey. Skippers Antoine Carpentier and Pablo Santurde del Arco are still leading the way now, but there is everything to play for at the head of the fleet given the tight bunching of the front runners. Polled at the Fastnet course mark, there was just one hour separating boat number 161 and fourth placed Lamotte Module Création (153). And the tension is set to rise aboard the Class40s…
As forecast, the competitors were racing all night long in a E/NE'ly wind fluctuating between 10-12 knots with gusts of 20 knots. It resulted in the Class40s having to zigzag their way downwind along the coast of southern Ireland in a gybing battle to find the best strategic position, alternately closing on and distancing themselves from the Emerald Isle in a bid to hunt down some breeze, whilst trying to avoid punching into the current and cover their rivals. It's a scenario that didn't leave a great deal of respite for the sailors and is ongoing for the second and third pelotons of the fleet who are on the chase between the two Irish lighthouses of Tuskar and Fastnet.
Over the course of the day, the heart of a stormy low-pressure system rolling in from the south will cross paths with the competitors as they make towards the Channel Islands. The upshot of this little encounter will likely be somewhat reminiscent of the doldrums with no wind other than that produced by the storm clouds. The leaders will be the first to negotiate this particular weather phenomenon. Another tricky tactical section ahead then for the crews in this 2021 edition of the CIC Normandy Channel Race. Something to reshuffle the cards once more perhaps…?