TACTICAL CONTROL OFF THE EMERALD ISLE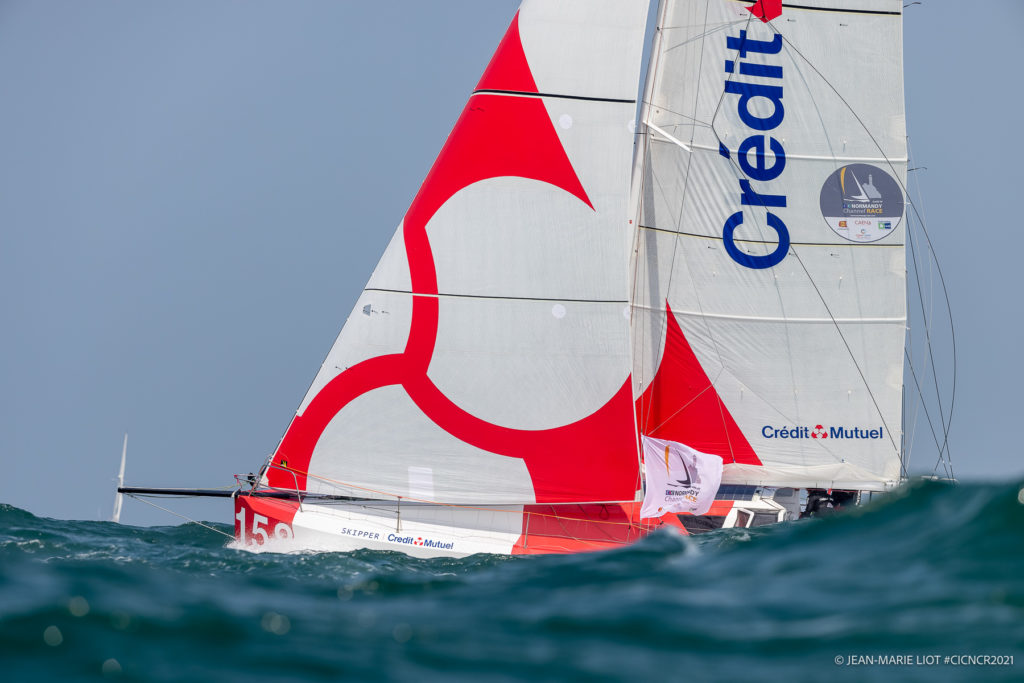 The first seven competitors in the CIC Normandy Channel Race are done with the ascent of the Celtic Sea and are now making for Fastnet Rock after negotiating the south-east tip of Ireland in the early afternoon in glorious sunshine. The top two Class40s, Crédit Mutuel (158) and Redman (161) have been mano a mano since the start of the race, each of them constantly jockeying for the top spot. Ultimately, it was the Lorient-based duo of Ian Lipinski / Gwenolé Gahinet, who secured the symbolic title of event record holders by rounding Tuskar Rock in the unprecedented time of 45 hours 22 minutes and 13 seconds.
 With the first Irish lighthouse now in their wake, the head of the fleet has launched into a very intense strategic duel and the duos will have to contend with various unsettling elements as they race to the legendary Fastnet lighthouse. Indeed, the relatively light breeze of 10-12 knots, combined with downwind sailing conditions, is forcing the crews to decide between an inshore or offshore option along the south coast of Ireland, with the cloud masses bringing their own breeze to the party and some significant local effects likely to come into play due to the high cliffs in the region. As such tactical skills will need to be exemplary if they are to excel out on the racetrack.
Further astern, the bulk of the fleet has split into two main pelotons sprawled out across the Celtic Sea. The first group is currently positioned off the south-west tip of Wales and is headed by the young Class Mini afficionados aboard the Class40 Lagallais Team Voile (145), Pierre Casenave-Péré and Kévin Bloch. Tailing them are Le Choix Funéraire (139), Project Insomnia (130), Prisme (131), Equipe Voile Parkinson (104), Free Dom (157) and Avanade (98). Meantime, the second more bunched peloton is being led by a CIC Normandy Channel Race regular: Olivier Roussey, aboard Obportus IV, accompanied for this edition by Benoit Lequin. Chasing hard behind are Vogue avec un Crohn (135), Prendre la mer, Agir pour la forêt (89), EngueVicSailing (115) and Sec Hayai (44). The two father and son pairings who are bringing up the rear aboard the Class40s Kite (144) and Eärwen (88) will be delighted to have left the south coast of England in their wake after rounding Land's End midway through the afternoon and joining the tail-end of the procession up the Celtic Sea.
At every stage of the fleet, it promises to be a physically testing evening and night for the skippers in the 12th CIC Normandy Channel Race. A series of gybes is on the cards if they are to make the most of any slight variations in the wind whilst keeping a close eye on their nearest rivals. The first Class40s are set to reach the legendary Fastnet Rock at first light, namely around 04:00 hours tomorrow morning…