A SPECTACULAR START FOR THE 14TH CIC NORMANDY CHANNEL RACE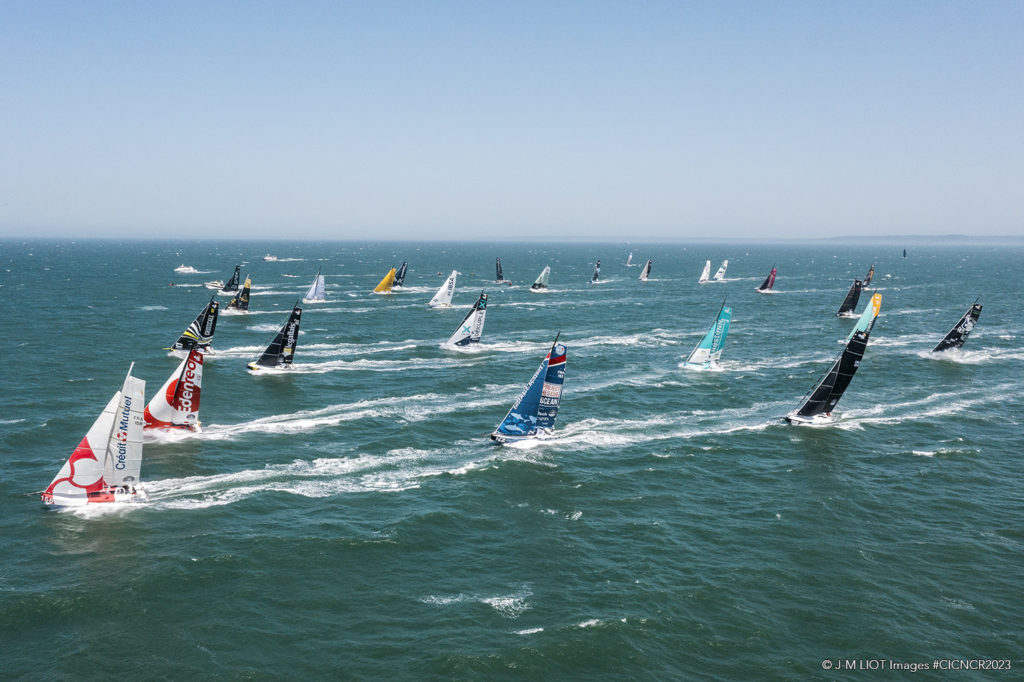 After a little less than a week on show in the port of Caen in northern France, the crews were more than excited to put pedal to the metal! In teams of two, ultimately some 60 sailors set sail today on the 14th edition of the CIC Normandy Channel Race. It's fair to say that the spectators were treated to a showstopping spectacle for the start with boisterous yet sunny conditions to kick off play. The Race Committee released the fleet of Class40s at 13:15 UTC with the initial course now taking them straight towards the first course mark of the Saint Marcouf Islands.
Breezy on the start line, the Class40s had to contend with a bracing 25 knots of established NNE'ly wind, gusting close to 30 knots. In these bouncy conditions, Race Management was forced to send the crews straight to the Marcouf Islands without the customary inshore coastal course. With daggers drawn from the off, the 30 duos making up this stellar fleet got off to a clean start in heavy seas. It was the Class40 Crédit Mutuel (158), which immediately set the pace. Nicely positioned on the race zone, Ian Lipinski and Antoine Carpentier were first across the line enjoying an excellent start. On a reach, the fleet quickly posted great speeds in excess of 20 knots, putting on quite the show for those guests who got the chance to be in the heat of the action out on the water. The two duos from the Figaro circuit, Groupe SNEF (178) and Amarris (182) in particular, quickly managed to show just what their latest generation steeds were capable of, making up ground on the reigning champion. The duo made up of Achille Nebout and Gildas Mahé was the first to round the north cardinal mark of Essarts de Langrune, the intermediate course mark in the sprint for the Norman archipelago of Saint Marcouf.
Nocturnal passage through the Solent
The Class40s soon devoured the 36 miles between the start line off Ouistreham and a compulsory mark to the west of Saint-Marcouf. As such, the fleet will now begin to set a course across the English Channel, with significant shipping and upwind conditions on the cards for this evening, prior to what will likely be a tricky nocturnal passage through the Solent.