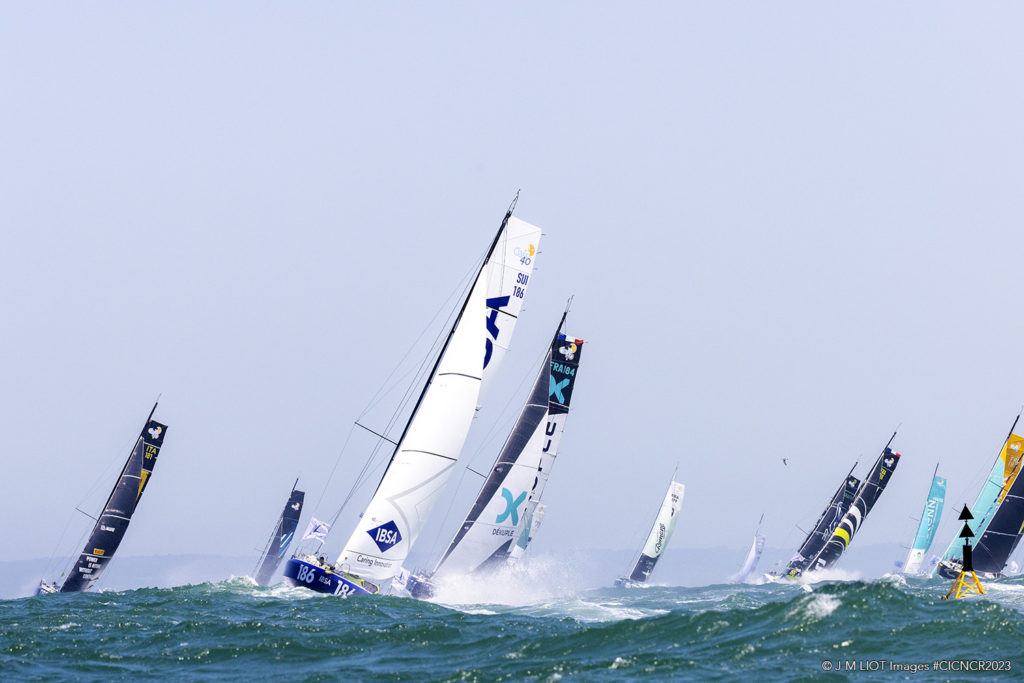 After yesterday's spectacular and magnificent start in the Baie de Seine on France's north coast, the 30 crews quickly swallowed up the thirty miles or so of racetrack stretching out to the west of the Saint-Marcouf archipelago. Since then, the Class40s competing in this 14th edition of the CIC Normandy Channel Race have been continuing to post dazzling speeds, regularly exceeding 20 knots as predicted. The 72 miles between the rounding of the Norman archipelago and the Isle of Wight were also devoured in just a matter of hours. An express upwind sprint across the English Channel saw all the duos close on the English coast at sunset, with nearly all the fleet negotiating their way through the Solent under the cover of darkness. The passage of the sound between the north-western coast of the island and the English mainland with the help of June's Strawberry moon and a favourable current for a large proportion of the fleet certainly helped the sailors to escape this notoriously hazardous zone without any hassle. In a refreshing turn of events for a Monday morning in the highly demanding and selective CIC Normandy Channel Race, the fleet has so far come off unscathed as they approach Start Point.
The first tactical choices
After a stand-out performance that saw them rocket out of the starting blocks off Ouistreham, it was the new Class40 Crédit Mutuel which was first to take on the Solent last night. Leading the way across the 30-mile sound, ultimately it was the Italo-French duo aboard Alla Grande Pirelli who earned the right to be the first to catch sight of the Needles, a row of three stacks of chalk symbolising the end of this tricky section. Making headway in around fifteen knots of ENE'ly breeze, the compact fleet has already covered a good half of the south-west coast of England and are having to make some more tactical choices. Though some of the competitors put in a counter tack at around 04:00 UTC in the search for more pressure offshore away from the wind shadows in the bays, the rest of the fleet is still on a direct course towards Start Point, a zone which boasts strong current, so a passage with a favourable tide is sure to provide a welcome burst of speed. We'll have to wait till Land's End, which the leaders are set to reach at around 15:00 UTC today, to discover which of the crews has struck the right balance between the inshore and offshore options.