AN ELECTRIC ATMOSPHERE FOR THE START OF THE 13TH CIC NORMANDY CHANNEL RACE!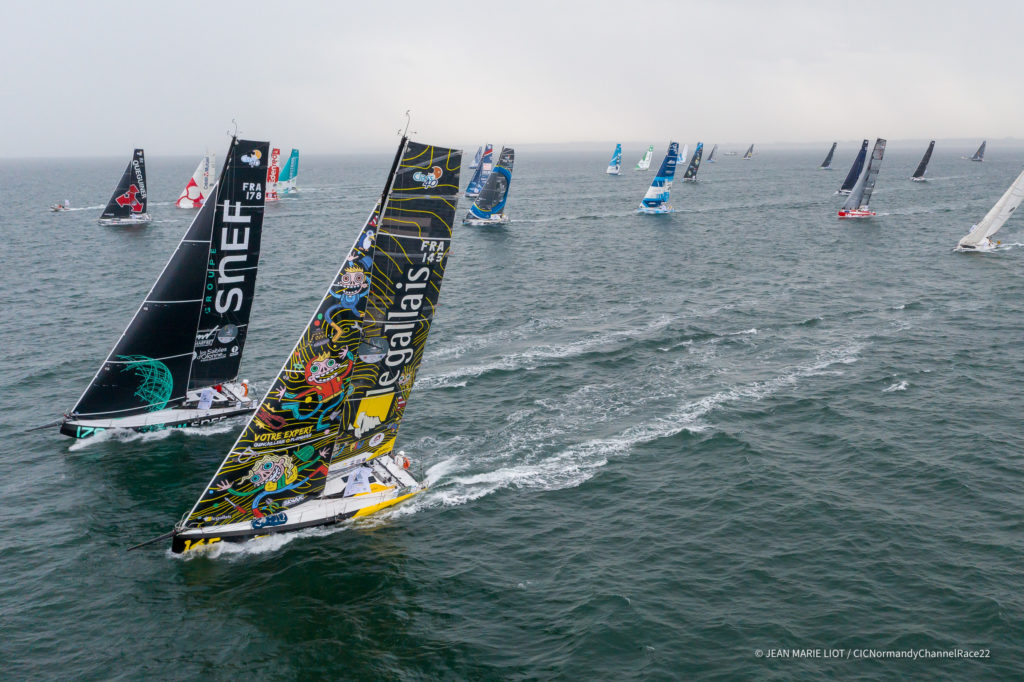 To say the 60 sailors who set sail this Sunday on the 13th Normandy Channel Race were eager to get going would be an understatement! In stormy yet magnificent conditions, the Class40s were released onto the racetrack at bang on 13:30 hours local time with around a 7-mile figure of eight coastal course around the Baie de Seine to kick off play in front of the mouth of the River Orne, between the cardinal marks of Luc sur Mer and Ouistreham on France's north coast.
There was certainly plenty of tension on the start line. Jockeying for position, the 30 duos which make up this unprecedentedly high calibre fleet got off to a clean start in around ten knots or so of E/SE'ly breeze. Virtually textbook conditions then to get themselves back in race mode. Hotly contested, the coastal course served up a tantalising foretaste of the battle royal that will doubtless play out over the 1,000 miles or so that make up the course for this event across the English Channel and the Celtic Sea. The Class40s Quéguiner-Innoveo, Redman and Legallais were constantly battling for supremacy at the front of the fleet in the opening coastal course concocted by Race Management. Ultimately though, to everyone's surprise, it was Pierre Casenave-Péré and Fabien Delahaye who came out on top on home waters, cheered on by a large crowd as they rounded the last coastal mark in first place. A great start for the local team who will be able to bank that confidence boost for this evening's Channel hop. Opportunistic and posting a series of impeccably clean tack changes, Ian Lipinski and Ambrogio Beccaria aboard Crédit Mutuel, managed to secure second place in the first position report. They were followed by the firm favourites of this 2022 edition, Corentin Douguet and Yoann Richomme aboard Quéguiner-Innoveo.
An express Channel hop
In light of the very stormy conditions forecast near the Norman coast, Race Management decided to remove the first course mark, off the Saint-Marcouf islands some 36 miles from the start line, in a bid to get the fleet offshore more quickly. As a result, the duos will launch straight onto a beat across the Channel, which won't be easy, given the abundance of shipping in this zone. The fastest sailors should reach the treacherous Solent at around 02:00 hours on Monday…