GYBING BATTLE ALONG THE SOUTH COAST OF ENGLAND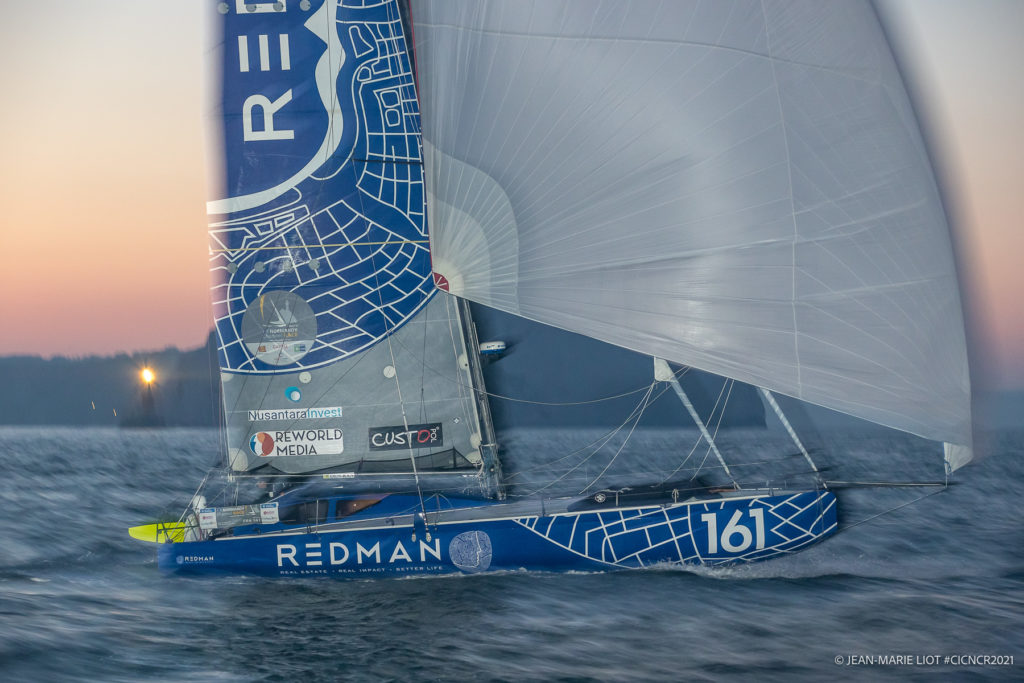 With conditions at the start of the race proving favourable to the new hulls, the head of the fleet has been embroiled in an almighty duel, Crédit Mutuel (158) boasting a slight edge over Redman (161) since rounding yesterday's Saint Marcouf course mark. Indeed, the Franco-Spanish crew of Antoine Carpentier and Pablo Santurde del Arco has been hot on the heels of the Lorient-based duo of Ian Lipinski – Gwenolé Gahinet throughout the day's gybing battle off southern England. It's a similar scenario a few miles astern between the most recent Class40 Project Rescue Ocean (162) and their valiant pursuers Lamotte Module Création (153), Banque du Léman (159) and La Manche #EvidenceNautique (154).  
Despite the big grins on the faces of the skippers after yesterday's start, which were a sure sign of how happy they are to be back out on the water in competition mode (see the 'Story du large' video – day 1), the easing of the E'ly wind along the southern coast of England (8-10 knots) must come as a slight relief to some of the competitors. Indeed, this brief period of respite will give the skippers in the 12th CIC Normandy Channel Race a chance to have a breather after a frenetic pace out of starting gates as evidenced by Axel Trehin in today's radio link-up: "It's game on with a fair few manœuvres and some moves to be attempted in terms of trajectory. We're having to deal with some particularly random winds along the coast of southern England and we're alternating between sessions at the helm and resting as we try to regain our strength after giving our all in last night's battle, which saw us go through the entire sail wardrobe". At the tail-end of the fleet, the father and son duo on the Class40 Eärwen finally got clear of the Shingles Bank in the early afternoon without any apparent damage.
First escapees at Land's End ?
The leaders in this 2021 edition are expected to reach Land's End at around 22:00 hours this evening. Crédit Mutuel (158) and Redman (161) are set to negotiate the south-west tip of Cornwall at slack water thus avoiding having to punch tide. It's a scenario which could well enable the top two pairings to extend their lead even further, whilst their pursuers are forced to punch into the current created by a rising tide. Whilst the first tricky sections around Barfleur and the Solent have gone like clockwork thanks to favourable conditions and timings, that of Wolf Rock may prove key in terms of the final leader board. The moderate SE'ly wind currently in the zone is due to last into this evening, enabling the sailors to round the most south-westerly tip of England under spinnaker and continue with the same configuration throughout the night. Tomorrow the wind is set to build as it backs round from the SE to the E as they launch into the climb up the Celtic Sea. At that point, the Class40s will likely be on a reach enabling them to post some good speeds and potentially reach Tuskar Rock by the end of the day. If things play out as forecast, the lighthouse at the south-east tip of Ireland should be behind them in a record time of just 48 hours. An event first perhaps…