HARD TIMES PUNCTUATE THE ENGLISH CHANNEL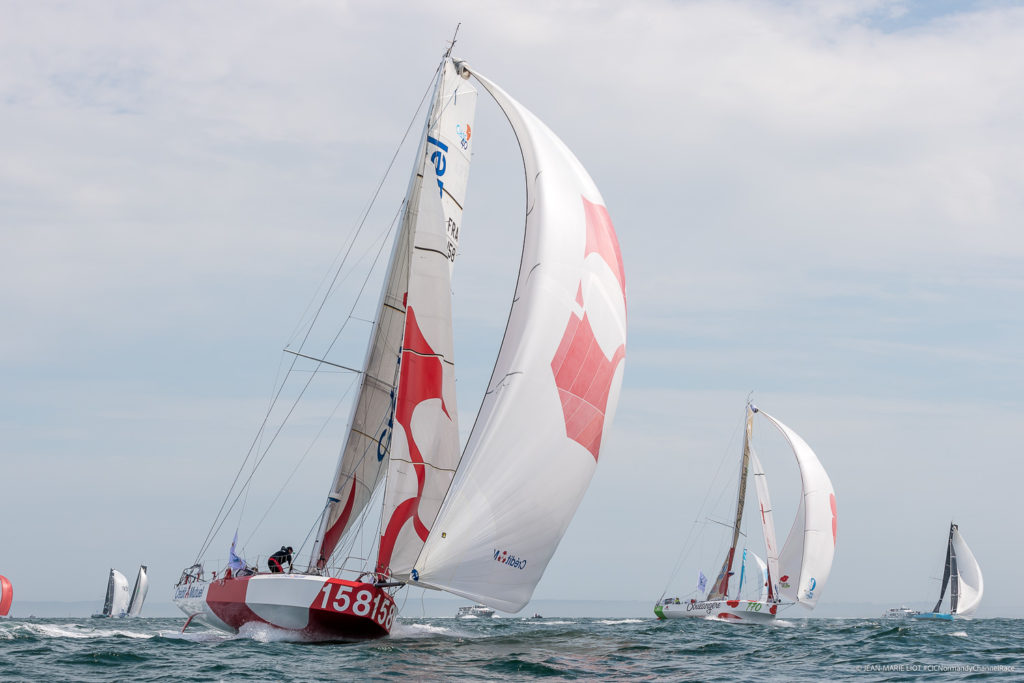 The leaders in the 13th edition of the CIC Normandy Channel Race have now rounded the new course mark of Grande Basse de Portsall. Though the Class40 Quéguiner-Innoveo was the first to have the honour of setting a course to the east and the Cotentin Peninsula at 15:10 UTC, the former Figaro sailors at her helm did not come off unscathed as they negotiated the cardinal mark off north-west Finistère. Firmly settled into the driver's seat in this race for the past 48 hours, Corentin Douguet and Yoann Richomme, ended up becalmed just a few miles to the north-west of Les Abers and could only watch as the chasing pack swooped down on them. Indeed, the first pairing to stumble up against the lighter breeze and the first to hit the tide on the ebb, the effects of which are stronger on the coast, their 10-mile lead has been halved. As a result, the Italo-Breton duo on Crédit Mutuel was the second crew to leave the Grande Basse de Portsall mark astern of them some 45 minutes after Quéguiner-Innoveo, followed by the brilliant Matthieu Perraut and Kévin Bloch aboard Inter Invest, just 6 minutes later.
Having rounded the most southerly point on the course, the sailors must now launch onto a passage closer to the coast between Portsall and Guernsey. It's unlikely to be a particularly joyous section on a direct tack, with the fleet having to contend with quite a current and a light to inexistant breeze, without many tactical choices on the cards other than positioning. Doubtless the next 24 hours will be tense for the protagonists battling it out in this 2022 edition. On the menu will be sail trimming and lots of time on the helm, sheet in hand, in a bid to fend off any attacks from their pursuers, who will be on the alert for the slightest opportunity to gain some separation which might enable them to overtake. Skipper Ian Lipinski summed up the situation perfectly in his message from on-board last night:"We were saying that it's a bit like last year: we've had a short 3-day prologue and soon the race will begin in earnest!"
The second chasing pack led by Bleu Blanc, 10th, around 17 miles shy of the leading group, is pulling out all the stops to get round the Portsall mark with the same rising tide as their predecessors, though there's a chance that the latter will manage to stretch even further away from them in the meantime.
Of particular note is the stunning performance by Amélie Grassi and Anne-Claire Le Berre aboard the Class40 La Boulangère Bio, who made a pit-stop in Cherbourg to resolve their alternator issues and have since been going all out to make up the lost ground. The all-female crew lamented a deficit of nearly 160 miles in relation to the American father and son duo of Greg and Hannes Leonard when they left the Norman port. This evening, they are just 40 miles apart…