Tactics at the Channel Islands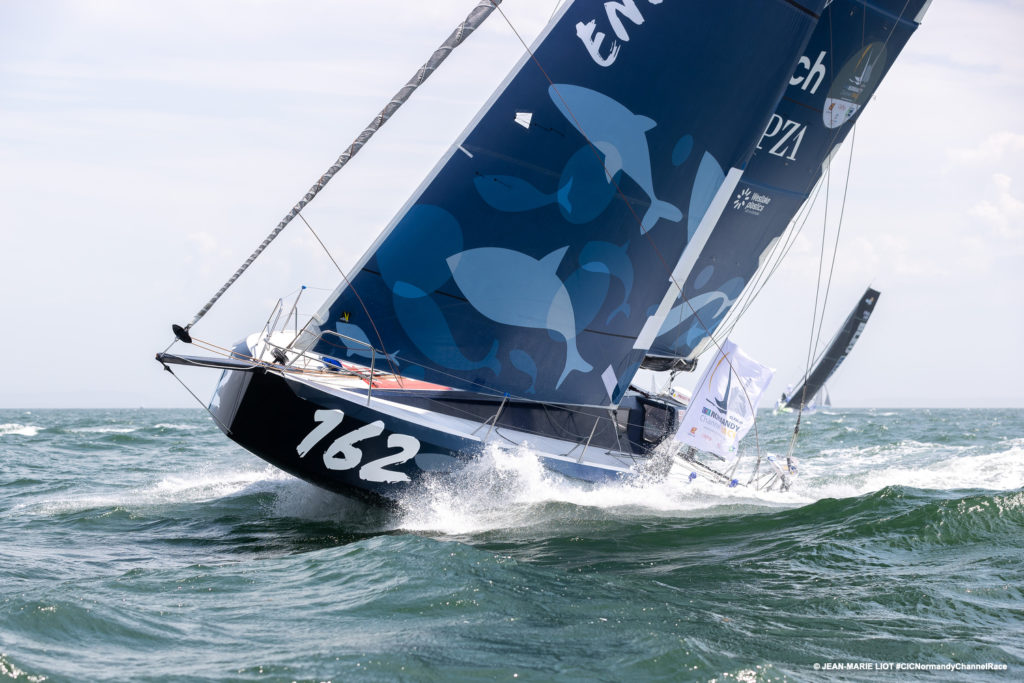 In an incredible twist, the fleet has squeezed right back together again! The CIC Normandy Channel Race is once and for all in a league of its own as an event where the end result is never ever a foregone conclusion. With the exception of the all-female pairing aboard La Boulangère Bio, all the protagonists in this 2022 edition have rounded the Grande Basse de Portsall mark and are making for Guernsey. As such, it's a tough call this morning to award any one crew the advantage given how extremely close they all are to one another… Just 1.5 miles separate the four Class40 leaders Inter Invest, Crédit Mutuel, Quéguiner-Innoveo and Project Rescue Ocean. However, what we can do is analyse the option taken by the duo Axel Trehin / Frédéric Denis sailing closest to the direct route, whilst their playmates have opted to focus on wind angle and the strength of the breeze. Either way, it's not hard to imagine that the tension is rising aboard the Class40s.
The situation is identical for the entire fleet with every competitor within sight of at least one other. Indeed, in the second half of the fleet, ten boats are grouped together in less than ten miles offshore of the Ile-de-Batz. How exciting yet stressful that must be for the sailors! Within this tense context though, there is some good news which must have lifted their spirits out on the racetrack this morning. Indeed, the duos are enjoying more breeze than initially forecast. A light 6-8 knots of NW'ly breeze is enabling the skippers to slip along gently on flat seas, despite some strong tidal coefficients, which are generating currents of up to 3.5 / 4 knots in the English Channel.
For the rest of the day, the game plan remains exactly the same, namely close-contact sailing and light to inexistant breeze, with everyone right on top of the trimming and poised to cover their direct rivals with tactics front and centre stage…. The leaders are expected to make the Guernsey mark by lunchtime, but which of Inter Invest, Crédit Mutuel, Quéguiner-Innoveo and Project Rescue Ocean will be the first to tackle Le Raz Blanchard and its famous currents, which are among the strongest in Europe… However things play out, we can be assured of an action-packed day ahead!