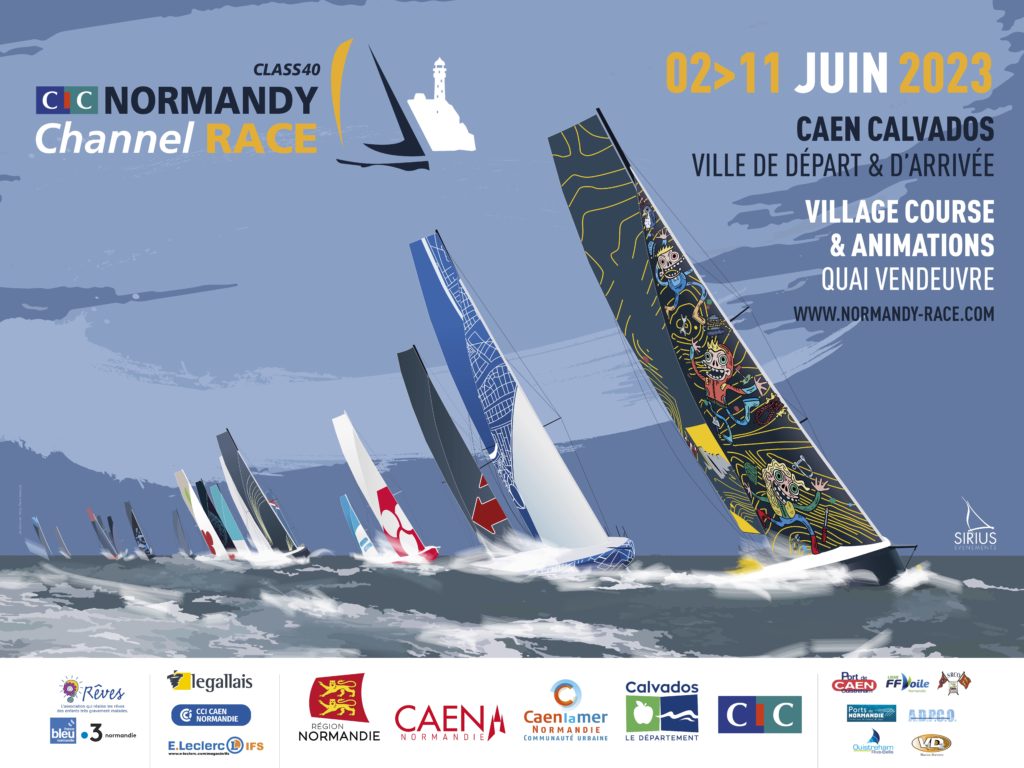 2023 will herald a new chapter in the development of the CIC NORMANDY CHANNEL RACE, the start of which is scheduled for 4 June 2023. For the first time a France-wide media device will report on the event via the L'EQUIPE TV channel and L'ÉQUIPE.FR website, providing daily coverage with the support of the CIC. This national commitment will complete the historic partnership with FRANCE 3 NORMANDIE, which will this year be debuting a special broadcast on Friday 2 June, with 90 minutes of live coverage of the start and the CIC NORMANDY CHANNEL RACE MINUTE recap of the day's events for 13 days. Also partnering the event since its creation, FRANCE BLEU NORMANDIE is expanding its own device, with some highly experienced professionals providing photo and video coverage.
France-wide coverage
Today, L'ÉQUIPE TV channel is the only free sports channel on DTT (channel 21) and it has enjoyed a sharp rise in audience levels, making it France's top channel focused entirely on sport. From Saturday 3 June to Sunday 11 June, a short one-minute-long programme, L'IMAGE DU JOUR, will present the latest sports news about the race, with repeat broadcasts 3 to 4 times a day, which equates to around thirty or so broadcasts over the race period. In conjunction with this, L'ÉQUIPE.FR website will air a short programme via a generic news item, which will integrate the daily video capsule. Finally, L'EQUIPE's social networks will also relay information with an estimated target of 2.5-million people.
Active partnerships on a regional scale
Another partner since the first edition, FRANCE 3 NORMANDIE is once again demonstrating its attachment to the event with a very comprehensive device: a special broadcast of the 'Vous êtes formidables' programme filmed with Anne Boétie, with the support of Laurent Marvylle, in the event village in Caen on Friday 2 June from 10:00 to 10:40 hours. This will be followed up by a second special broadcast providing live coverage of the start on Sunday 4 June from 14:30 to 16:00 hours, and the now familiar CIC NORMANDY CHANNEL MINUTE spanning 13 days from Wednesday 31 May to Monday 12 June at 12:20 and 19:20 hours to round off the day's television news. This latter programme will also be broadcast in the HAUTS DE France region.
FRANCE BLEU NORMANDIE will also have a significant presence with several highlights on the programme: columns in NORMANDIE SPORT and NOUVEL ECO, morning interviews, 3 periods of live coverage for the start day, coverage of the race during the week, plus a series of radio sessions as part of the partnership agreement.
Experienced media teams
Based in Caen itself, IMAGINE IN FRANCE will be responsible for image production on news items for L'ÉQUIPE TV and FRANCE 3 NORMANDIE. Headed by Thomas Fournier, its teams have extensive experience of filming at sea and have just produced a series of 6 x 26'-long programmes within the scope of the GLOBE40 round the world race in Class40. Jean-Marie LIOT has been the event's official photographer since 2010 and he's recognised as one of the top marine photographers (Prix Mirabaud 2016, the international 'Pulitzer' of marine photographers), making the cover of both VOILES ET VOILIERS and VOILE MAGAZINE this month. Finally, Maxime Falcone (MF PROD) will be the editorial voice of the event across our various networks, and boasts several years' experience of working on the event and for several Vendée Globe skippers.
REMINDER: Registration closes on 1 May 2023