LET THE TACTICAL GAMES COMMENCE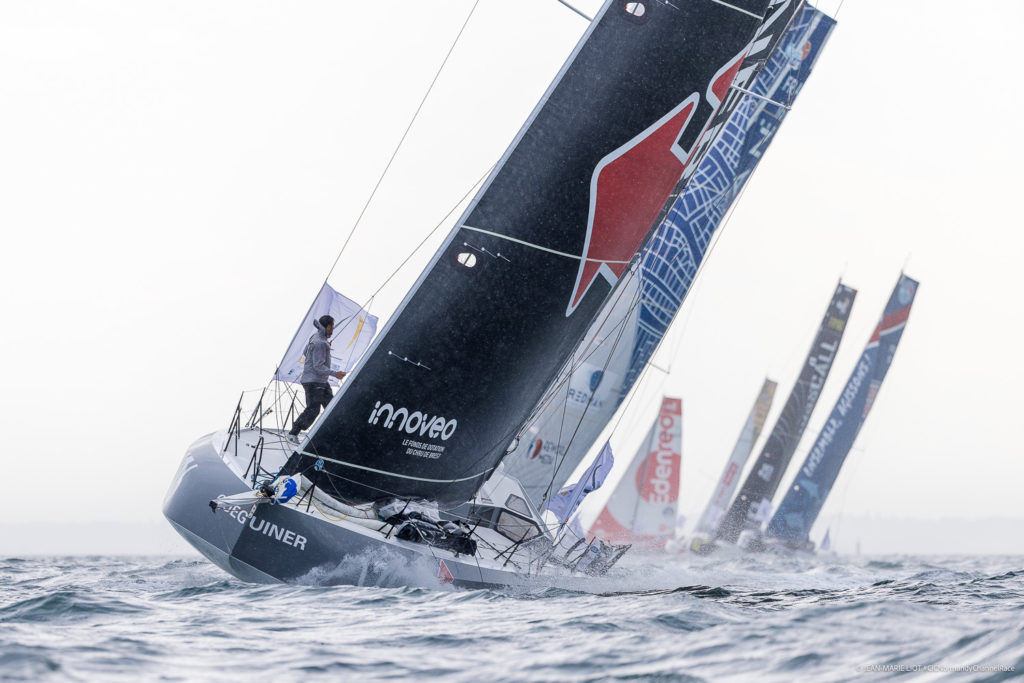 With the exception of the Class40s Fuji Zerochallenge and La Boulangère Bio, virtually all the crews competing in the 2022 edition of the CIC Normandy Channel Race have rounded the Tuskar Rock lighthouse, the most northerly point of the course, and are now plunging southwards towards a new mark at Grande Basse de Portsall, off the north-western tip of Brittany. With the fleet split into two very distinct groups, the former champions of the Figaro circuit, Corentin Douguet and Yoann Richomme, are still leading the way aboard the Class40 Quéguiner-Innoveo. The first peloton is sailing under the influence of an occluded front with the sailors having to negotiate a difficult transition zone amidst a combination of steady rain and wind shifts, which is causing a significant drop in speed. Meantime, the chasing pack is ensnared in a zone of high pressure sprawled out lazily along the south coast of Ireland…
After passing the Irish lighthouse, the leaders' game plan was fairly clear: to make westing in order to circumnavigate a transition zone smack bang in the middle of the Celtic Sea as best they could, whilst trying to control their direct rivals. Over the course of this evening, the occluded front will clear away to the north, paving the way for a more regular 15-20 knots of SW'ly wind, which will enable the fleet to head pretty much straight for Land's End. It remains to be seen which of the top nine boats will be in the most favourable spot once the more constant and eagerly awaited new breeze makes its presence felt.
It's fair to say that at every stage of the race, the battle is raging. In the second chasing pack, three small groups have formed with each of the competitors squeezed together less than two miles apart. This is notably the case for Bleu Blanc, Tquila and Nestenn–Entreprendre pour la Planète, as well as for Prisme, Naviguons contre le diabète and Vogue avec un Crohn. The tension must surely be palpable aboard the Class40s given how stressful it can be to sail within sight of fellow competitors. The emphasis this evening will be on giving their all, staying focused and above all controlling their nerves in a bid to claw back precious miles in relation to their closest rivals.
After 48 hours of racing, the top ten competitors are bunched together within 20 miles of one another. By late evening, the fleet are set to reach Land's End for the second time, at which point the wind will gradually ease as they make for the Grande Basse de Portsall mark. Once there, the race will become an entirely different animal. With a deep fatigue beginning to set in after enduring a series of meaty and uncomfortable conditions since the start, it'll be important to keep a clear head to tackle the second half of the race, where the breeze is due to become relatively weak, setting the racers' nerves on edge. Indeed, at the midway mark in the race, it is still absolutely anyone's game. Notorious for never being a foregone conclusion, the CIC Normandy Channel Race isn't giving anybody an easy ride and further upsets in the ranking cannot be ruled out with some tricky sections still to come… This is true even among those who appear to have a slight edge. A fact that won't be lost on the likes of Corentin Douguet and Yoann Richomme, who will be hoping to bring their tactical A' game to the fore to disprove the statistics.