LE RAZ BLANCHARD, THE GATEKEEPER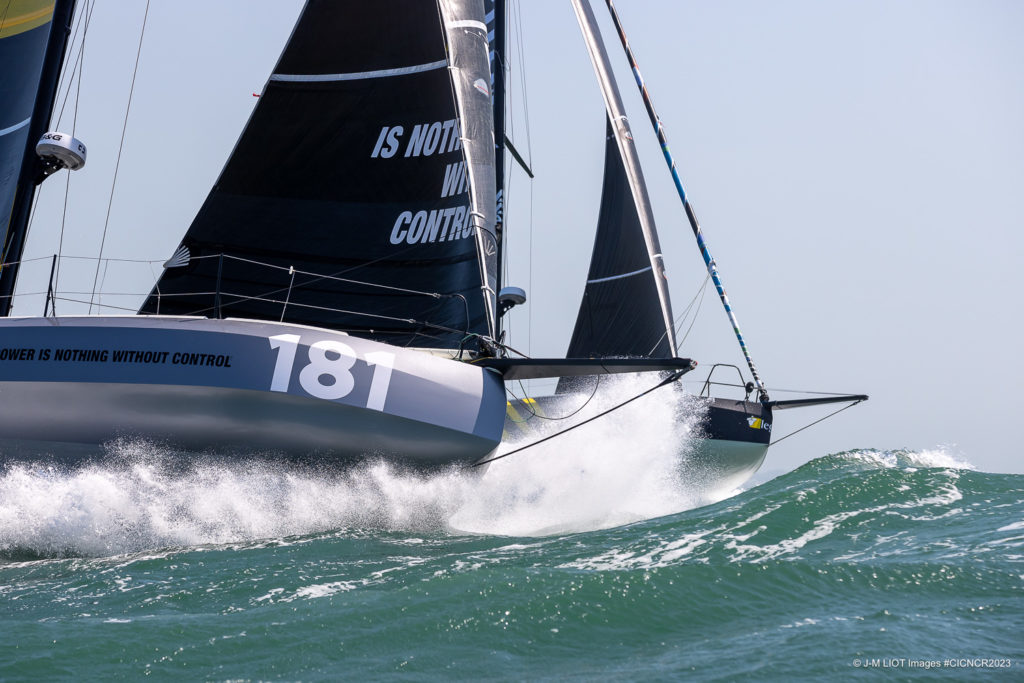 The skippers in this 2023 edition of the CIC Normandy Channel Race are currently negotiating the sprint back up the English Channel. In reality, the situation is akin to a final gruelling ascent with Caen at its summit. Indeed, the valiant Class40 sailors are negotiating an intense NE'ly breeze, serving up 25 knots of established upwind conditions, gusting to 36 knots, amidst a backdrop of heavy seas that are hard to handle. Inevitably both crews and boats are feeling the pressure, which has led to some on-board damage and some retirements. Before the liberation on the finish line off Ouistreham and a well-deserved return to land, they seem to have opted to go around the Channel Islands before taking on the passage of Le Raz Blanchard, famed for its mighty currents.
Despite the tough conditions, the race is still in full swing. After Lizard Point, two strategic options were on offer to the duos, who had to once again make a radical decision, which involved either heading north, hugging the Cornish and Devon coast to shelter from the wind and the current before plunging southwards towards the Cotentin peninsula, or opting for a more direct but perhaps more rash trajectory to the south straight across the English Channel in the teeth of a gale. As was previously the case, the two pelotons have ended up crossing tacks again before the Channel Islands for the most part. As the fleet squeezes up together again, Alla Grande Pirelli (181), Crédit Mutuel (158) and Legallais (190), three boats favouring the N'ly option, are monopolising the provisional podium places. Beware though, as Ambrogio Beccaria explained at today's radio link-up, it is never done and dusted in this highly unique race: "The race is far from over. In the CIC Normandy Channel Race, you may think that everything's going smoothly and that the result is in the bag, then all of a sudden, you're right back to square one and all that you have worked so hard for has gone up in a puff of smoke. As such, we're putting all our effort into staying focused and not getting caught out." Over the past few hours, the Italo-French duo has been extending away from the fleet and now boasts a lead of some 8 nautical miles over its direct rival. However, thanks to past editions of the major Norman classic, we've learned to remain cautious about the verdict, right to the last.
One last test to deal with
With most of the sailors having decided to negotiate their way through the Channel Islands, it would seem that they are trying to line themselves up nicely for the last tricky section of the course: Le Raz Blanchard and what is reputed to be one of the strongest tidal currents in Europe. At the end of every edition, the skippers dread this big chunk of racetrack without really any idea what the situation will be like once they get there. Having the tide in your favour as you take it on would greatly reduce the chance of a tumble down the leader board. However, timing it so that you're punching tide as you round the Cotentin peninsula would likely involve heading a long way out to sea or pebble-hopping down the coast, which could certainly reshuffle the cards prior to the final sprint. We can well imagine that Crédit Mutuel (158), Project Rescue Ocean (162), Legallais (190) and IBSA (186) will remain on the hunt, ready to pounce the second there is even the slightest chance of snatching the lead from the clutches of Alla Grande Pirelli (181). Given the current situation out on the racetrack, we can expect the denouement of this 14th edition early tomorrow morning. Stay tuned as victory could well go right to the wire, once again…