GEARING UP FOR A RECORD EDITION IN THE 13TH CIC NORMANDY CHANNEL RACE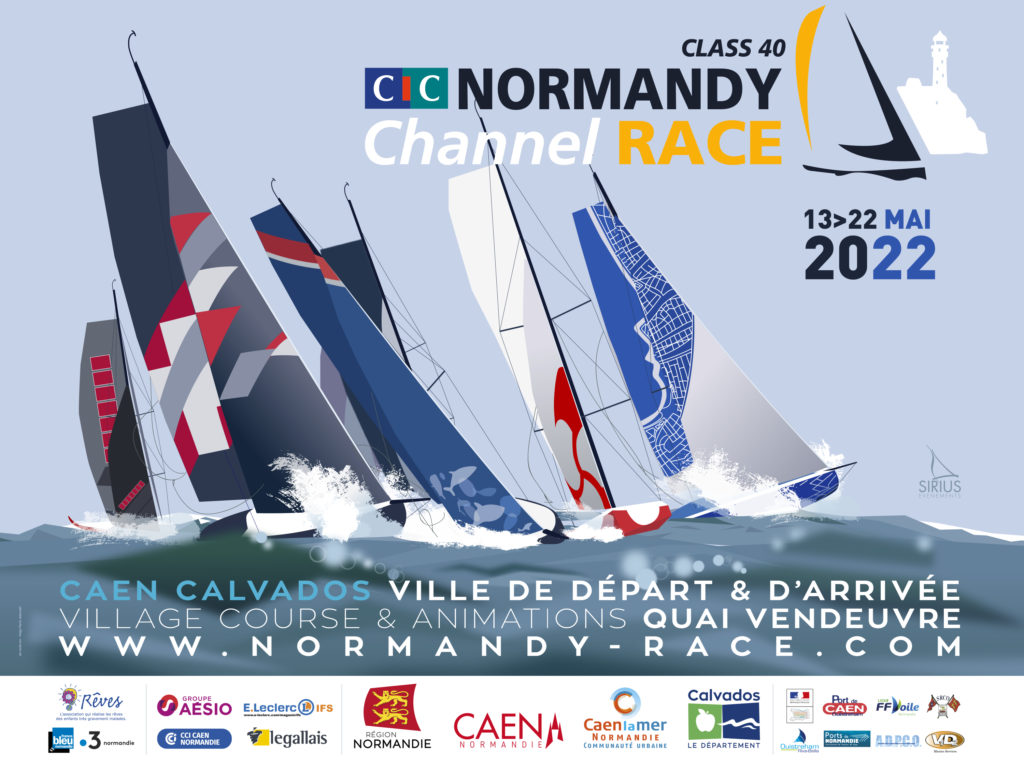 A first-rate line-up with 32 entries to date
In recent years, the CIC NORMANDY CHANNEL RACE has enjoyed bumper entry numbers (27 Class40s at the start in 2016 and 2018) and 2022 is shaping up to be another great vintage. To date, 32 teams have signed up with a month and a half to go until registration closes.
The public's thirst for offshore racing, the continuous growth of the event and the overall development of the Class40 all go some way towards explaining the big draw of the race. Among the entries, more than half are lining up for the very first time, which demonstrates how pivotal the event is in the Class40's annual European circuit.
With one exception, the 16 new boats launched since the last edition of the race (Nos. 163 to 178) have already registered for this major Norman classic. Furthermore, a wide range of naval architects and yards are represented in this mix, ensuring that this year's event is a unique showcase for the evolution of the Class40: from the Pogo S4 (Verdier/ Structures) to the Lift V2 (Lombard/ Grand Large Composites – V1D2), Max40 (Raison/ JPS), Clak40 (VPLP/ Multiplast) and the Cape Racing Scow 40 (Bertrand/ Cape Racing Yachts), with the very first Mach40.5 (Manuard/ JSP) skippered by Luke Berry also set to compete.
The Normandy region has certainly carved out a niche for itself in this economic sector with 4 boats in build in Caen (Lombard design LiftV2 at Grand Large Composites and the V1D2 yard). 2 of these Class40s have already been launched (No.166 / Crosscall / Aurélien Ducroz and No.176 / Queguiner – Innoveo / Corentin Douguet).
Impossible to predict a winner for the 2022 edition  
The diversity of the machines is matched only by the diversity of the skippers and it is this aspect that gives the Class40 its truly cosmopolitan character, bursting with assorted profiles and multiple sporting backgrounds.
This year's line-up includes some of the series' regulars like Axel Trehin / Project Rescue Ocean (winner of the 2021 edition), Ian Lipinski/ Crédit Mutuel (winner of the Transat Jacques Vabre 2019) and Antoine Carpentier/ Redman (winner of the Transat Jacques Vabre 2021), as well as newcomers from domains like the Mini 6.50 (Amélie Grassi/ La Boulangère Bio), the Solitaire du Figaro (Corentin Douguet – Queguiner / Innoveo / Xavier Macaire – Groupe Snef), and skippers keen to debut their new steeds (Nicolas d'Estais – Happyvore / Mathieu Perraut – Inter Invest, Andrea Fornaro and Emmanuel Hamez / Teranga).
Typically, the Norman skippers are well represented here too with Marc Lepesqueux/ Sensation Class40, Pierre Casenave – Peré/ Legallais, Pierre–Louis Atwell/ Vogue avec un Chrone and Clara Fortin/ Randstad-Ausy ranking among the runners and riders.
Equally of note is the return to the fray of Jean Galfione (Serenis Consulting) for his 9th participation, as well as a stellar overseas contingent that includes Briton Mike Golding (4 Vendee Globe), who will be sailing with American Alexander Mehran (Polka Dot), Keni Piperol from Guadeloupe, who will be debuting his new Captain Alternance made from recycled materials with Lalou Roucayrol as co-skipper, and Rupert Henry, who will be joining us from Australia with his new Lombard design Eora.
The Vintage Class40 category will also be in attendance skippered by the likes of Morgane Ursault–Poupon (Up Sailing Unis pour la Planète) and Finnish sailor Ari Kansakoski (Fuji Zero Challenge). For the first time, American father and son team Greg and Hannes Leonard (Kite) should be able to sample the delights of the port of Caen before kick-off, after making straight for the start line from the UK for the past 2 years due to lockdown restrictions.
And so begins a whole new chapter of this event; an event that boasted 10 participants in its inaugural edition in 2010… and has since racked up 472 participations in all, with 252 separate skippers and 19 different nationalities….